Lois & Clark Music Videos by Li Moss
__________________________________________

I own no music or TV shows - I merely play with the material for my own enjoyment. No profit is ever made by me, and should not be made by anybody else, for these videos.

__________________________________________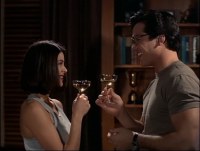 Music by KT Tunstall
Edited: July 2006
Available File Sizes:
28.9 MB, wmv, 640 x 480 (right click on title to download)
14.3 MB wmv, 320 x 240 (right click
HERE
)
Duration: 3:38
I heard KT Tunstall perform this song in studio at a local radio station when she was in town for a concert. The energy of the song seemed perfect for Lois, and the lyrics worked for Clark and his feelings for her, so I just had to make this vid!
The story is simple. Clark "suddenly" finds himself smitten by Lois and realizes that "what he wants to be" is the only man in her life.
Lois & Clark are so much fun to play with that I'm almost sorry to have finished the vid! Hope another song comes along soon so I can visit them again!